Digital Music Royalty Collection Company
Your Music Royalties, Discovered
Collecting the Difficult to Find Digital Royalties for the World's Top Music Publishers and Record Labels.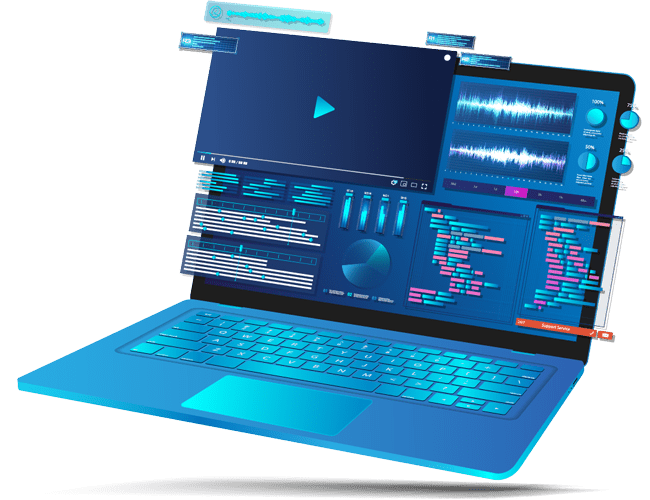 Audiam is built on a proprietary digital royalty collection and payment engine. Our veteran team leverages big data to find your digital music royalties in hard to reach places and put them back where they belong: in your bank account.
Led by highly skilled and seasoned music industry veterans with 75+ years of experience, Audiam tailors its approach to client success by combining our proprietary tech with expert music royalty admin staff.
Our suite of services and proven solutions are trusted by a roster of world class clients. Our YouTube Certified team's goal is to leverage data to establish a new level of trust and transparency in music publishing royalty collection.
Audiam leverages big data, innovative technology, and future-forward business processes to locate metadata for the sound recordings of your compositions.
Our proprietary enterprise systems dig deep to find instances of use, enhance and clean the data, and push it back out to  platforms using your music to help you get paid faster and more accurately.

Frequently Asked Questions
What services does Audiam license and receive royalties?
The following is a list of online services that Audiam has licensed and from which Audiam collects royalties on behalf of our clients. New companies are added regularly.
Amazon Ad Supported Tier
Amazon Music Unlimited
Amazon Prime
AMI Entertainment
Anghami FZ LLC
Aaptiv
Apple Fitness +
Apple Video & Lyrics
Apple, Inc
Audiobyte
Audiomack Inc.
Beatport
Beats Music
Bill Graham Archives, LLC
Boomplay
Choral Tracks LLC
Classical Archives, LLC
Deezer
DMX Music, Inc
FanLabel
Feed Mecia
FORME Life
Genius Media Group, INC.
GTL
GuitarBackingTrack.com
hoopla
Idagio GmbH
iHeart
Jiosaavn
Karaoke-Version
LiveXLive
Lyricfind
Melody VR Group PLC
Meta (Facebook/Instagram)
Mixcloud Ltd
MonkingMe S.L.
Mood Media
Music Choice
Music Powered Games
Musixmatch
nugs.net
OnMobile Live
Pacemaker Music AB
Pandora
PANTHR Music
Peloton
Power Music
Primephonic B.V.
QOBUZ
Sauce Industries/Gray V
Singa
Smithsonian Folkways Recordings
Snap Chat
Songfile.com
Sonos
Sony Digital
SoundCloud
SoundCloud Operations Inc.
Spectrio Music
Spotify USA Inc.
Steinway Spirio
Sybersound Party Time Karaoke
Sybersound Records
Tidal
TikTok
Time-Life Music
TouchTunes
TREBEL
We Are The Hits, Inc.
Weav Run
Within VR
Yes! Fitness Music
YouTube LLC (Sound Recordings)
YouTube Music
YouTube Publishing
What type of content do I need in order to be represented by Audiam, including hiring Audiam to make claims on my behalf in YouTube's Content ID system?
In order for Audiam to represent you, you will need to have the following:
ownership of sound recordings and/or the musical works embodied in those sound recordings;
the ability to authorize Audiam, exclusively, to license digital service providers within the territory for which Audiam represents you and collect royalties from those providers for uses of the sound recordings or musical works you own; and
audio files of your sound recordings that are sufficiently distinct so that it can act as a reference file when videos are scanned by YouTube's Content ID programs in an attempt to identify videos containing the sound recordings or musical works you own.
The sound recordings or musical works you register with Audiam cannot be or contain:
unlicensed samples, sound effects, sound bites, beats, or royalty-free music;
audio made available for free from sources such as Garage Band, Ableton, Logic, Fruity Loops;
content licensed non-exclusively from a third party;
content released under Creative Commons or similar free/open licenses; or
public domain sound recordings.
More information about YouTube's requirements can be found at: https://support.google.com/youtube/answer/2605065?hl=en
Ready to start collecting royalties?
As CEO of Audiam, John leads client acquisition, licensing and business development. Prior to Audiam, John spent twelve years with The Harry Fox Agency as the head of client services managing the team providing support to thousands of leading publishers and digital music providers. He directed the implementation of HFA's Rumblefish licensing administration services for online music and music video services, lyrics, tablature and royalty settlements. He has been named one of Billboard's Digital Power Players since 2019. Previously, John spent over fifteen years in record label marketing, publicity and product management roles at Atlantic Records, SST, MCA, Roadrunner and Live Nation Artists. He also hosts the This Music Hour radio show every Monday on Radio Free Brooklyn.
As COO & President, Jamie leads all operations and aspects of administration for Audiam. Previous to joining Audiam in 2015, Jamie spent 5 years as the first President of Music Publishing at TuneCore. He was also with the legendary publishing company Bug Music for over 17 years where he rose to Senior Vice President of Administration before it was eventually acquired by BMG Music Rights. Jamie is also an accomplished guitarist and songwriter who has released 12 albums with his band Interstate Blues.